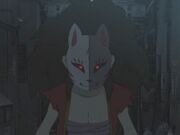 Yanku is a minor character for Kakurenbo. He and his brother have a dark past, and their reason to play is a mystery. He and his brother are acknowledged for their thick long bushy hair, black and white masks and wearing the same clothes except with different colors. He and his brother meet their end valiantly fighting off Oil taker with makeshift weapons
Ad blocker interference detected!
Wikia is a free-to-use site that makes money from advertising. We have a modified experience for viewers using ad blockers

Wikia is not accessible if you've made further modifications. Remove the custom ad blocker rule(s) and the page will load as expected.