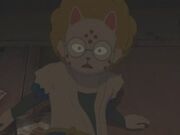 Tachiji is a minor character of Kakurenbo and member of Noshiga's gang. He, Suku and Noshiga are heard discussing the game of Otokoyo, saying his friend saw a shadow of a demon in the town. His trademark details are his blonde afro and glasses that he wears over his mask. He is the first kid caught so he is a red-shirt character (movie lingo for a minor character who gets killed off first)
Ad blocker interference detected!
Wikia is a free-to-use site that makes money from advertising. We have a modified experience for viewers using ad blockers

Wikia is not accessible if you've made further modifications. Remove the custom ad blocker rule(s) and the page will load as expected.