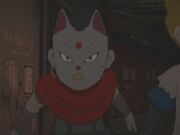 Suku is a minor character of Kakurenbo and a member of Noshiga's gang along with Tachiji. He, Tachiji and Noshiga are first heard early in the movie discussing the game of Otokoyo amongst themselves. Suku is known for a really big belt around his waist and a red scarf around his neck. He is caught and killed when Noshiga tells him to go hide somewhere else and is found by Liver taker
Ad blocker interference detected!
Wikia is a free-to-use site that makes money from advertising. We have a modified experience for viewers using ad blockers

Wikia is not accessible if you've made further modifications. Remove the custom ad blocker rule(s) and the page will load as expected.