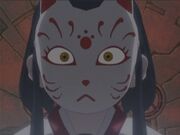 Sorincha is the main antagonist for Kakurenbo. She had disappeared the day before while playing this game, so Hikora and Yaimao set out to find her. She is the eighth kid to play, and is silent throughout the film until the later scenes. It turns out that she won the last game, and became "It". Her fate is unknown, as she again disappeared after Hikora won the game
Ad blocker interference detected!
Wikia is a free-to-use site that makes money from advertising. We have a modified experience for viewers using ad blockers

Wikia is not accessible if you've made further modifications. Remove the custom ad blocker rule(s) and the page will load as expected.