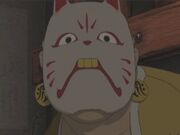 Noshiga is a minor character of Kakurenbo. He is the leader of a small gang and claims he is not afraid of demons. He plays the game to prove that he's tough and to find out who the demon really is. He is the third player to get caught after he faints or has a heart attack at the sight of Blood taker killing Liver taker
Ad blocker interference detected!
Wikia is a free-to-use site that makes money from advertising. We have a modified experience for viewers using ad blockers

Wikia is not accessible if you've made further modifications. Remove the custom ad blocker rule(s) and the page will load as expected.